In Spain, the festivities and the colorful streets reach the Pamplona restaurants, where a great variety of international and national food dishes are served; which combine to welcome anyone who is going to visit them and we will tell you about them today here in Restaurant-Z.
In Pamplona passion overflows and its inhabitants go out to live life as a family; visiting the best Pamplona restaurants to celebrate and taste the menus.
With good wines, accompaniments and desserts, diners like to be surrounded by a pleasant atmosphere, with good music of stringed instruments, which evoke great celebrations and dream banquets, so do not miss the following restaurants.
Goroabe Bar
In Pamplona restaurants it is common to find oriental cuisines, which delight guests with their rice, seafood, tempura and noodles prepared at home; such is the case of Goroabe, which falls into the category of Chinese restaurants in Pamplona favorite of all residents.
In this place, the space is small but charming, with a small terrace, where you can enjoy a delicious Cantonese duck, stuffed dumplings or a three-delicious rice; to inspire your mind and give love to your palate.
Address: Calle Goroabe 2, 31005 Pamplona Spain.
Phone: +34 948 24 99 81
Alma Restaurant
If you want to feel the fresh air on your face and share a good laugh with a special person, then you should visit the restaurants with terrace in Pamplona, among them Alma, where they serve European food with Mediterranean fusions.
In its menu you will find a delicious grilled sea bream with roasted vegetables and desserts that capture the hearts of those who taste them, such as carrot cake and torrijas. One of the Pamplona restaurants with an excellent view due to its location in a hotel.
Address: 31006 Pamplona Calle Beloso Bajo 11 In the Hotel Alma Pamplona Muga de Beloso, 31006 Pamplona Spain.
Phone: +34 948 29 33 80
Verduarte
Considered one of the best restaurants in Pamplona for constantly modifying its menus according to the seasonal vegetables harvested in the city's orchards.
In Venduarte you will live a unique gastronomic experience, with the fish and veal dishes they serve; accompanied by special salads and original dishes created by its Chef Nacho Gamorra; which makes it undoubtedly one of the best options of restaurants in Pamplona.
Address: Plaza del Baluarte, s/n, 31002 Pamplona Spain.
Phone: +34 948 06 60 56
Restaurant La Vieja Iruña
Located in the heart of the city center, makes it an excellent option to visit in the gastronomic tours of Pamplona restaurants. In La Vieja Iruña, they serve as star dishes, the lamb roll with mango chuney, pork tenderloin, lamb ingot and torrija as the ideal dessert.
Visit the restaurants in Pamplona if you want to be pleasantly surprised; in this sense, the Vieja Iruña has an exceptional wine list and a modern atmosphere, for the comfort of its guests.
Address: Calle San Nicolás 41, 31001 Pamplona Spain.
Telephone: +34 948 59 66 65
La Fogoneta Culibar
If you want to eat food prepared with the homemade seasoning that you like so much, you should definitely go on a weekend to visit La Fogoneta. Among the Pamplona restaurants that serve in abundance and their prices are accessible to all.
The chistorra scrambled eggs and tuna omelette are frequently ordered by diners, who review the best restaurants in Pamplona on culinary websites and blogs.
Address: c/ Francisco Bergamin 31, 31003 Pamplona Spain.
Phone: +34 948 23 94 89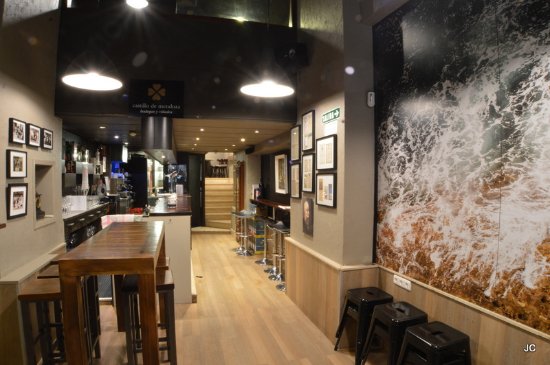 Conclusion
In Pamplona the art of gastronomy is alive at all times, so you can not miss the opportunity to stop for a moment and enjoy its incredible dishes. And if you want to know more recommendations, follow our series of restaurants in Spain. You won't regret it.