Undoubtedly, restaurants with terrace in Monterrey have taken great boom over the years; it is almost impossible not to want to enjoy a delicious meal while you have the beautiful city as a backdrop. Therefore, if you are looking for romantic restaurants with terraces in Monterrey we have a list that you will love, so keep reading our post.
Best restaurants with terrace in Monterrey
Monterrey has always been known for being a meat loving city and of course, in another post we have told you about the best restaurants in Monterrey, today we will tell you about those places to eat that have a terrace and of course, turn a simple dinner, breakfast or lunch into something very intimate and romantic, so let's get to know them.
La Gran Barra
It is impossible to talk about restaurants with terrace in Monterrey without mentioning La Gran Barra; a restaurant where, besides eating delicious food, you can also be accompanied by the beautiful scenery of the city.
La Gran Barra is a restaurant that was designed and created for leisure, since most of its dishes are made to share in groups of 4 to 6 people.
Its gastronomic offer is incredible, with a predominance of Mediterranean flavors, a great variety of European cheeses and many Arabian flavors; obviously, there are incredible cuts of meat from this region of the country. Don't forget to order their roasted asparagus with sea salt or the 24 layer cake.
Santo Mar
For those who love seafood and are looking for restaurants with a terrace in Monterrey, this is the ideal place. At Santo Mar, you will be able to delight yourself with its varied seafood options, among which oysters, ceviche and sashimi stand out.
As you can imagine, its menu is based on seafood, all prepared exquisitely. Although, it should be noted that you can also find some options such as pizzas and salads.
Something we cannot fail to mention is that Santo Mar takes meticulous care of every ingredient used in their recipes; besides, you can be sure that in every bite you will have complete freshness and unforgettable flavors.
Pangea
If we are talking about restaurants with terrace in Monterrey, Pangea should be on our list. This is a restaurant, whose concept is contemporary haute cuisine, has managed to charm every diner who enters the restaurant since 1998.
Pangea has one of the most impressive views in the entire city, which, along with the dark tones of the restaurant's décor, make it the perfect setting for a romantic date and to take advantage of the view at sunset.
Although the food is contemporary in concept and uses mostly French techniques, the ingredients are national, which provides an incredible mix of cultures that you won't want to miss.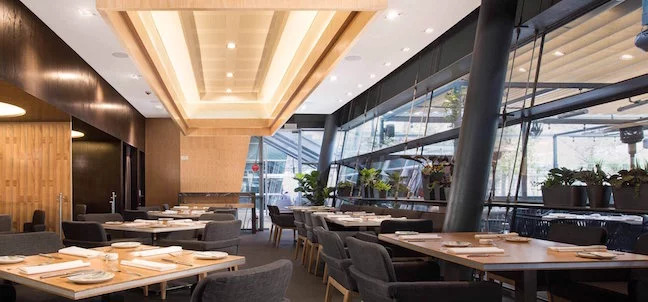 La Reynita
For those who love Mexican food and want to taste their palates in one of the best restaurants in Monterrey with terrace; this is the ideal place to do it.
La Reynita is a restaurant with a large terrace, which is perfect to spend a Sunday afternoon, while tasting some delicious sopes de tuétano, a machacada de camarón or a short rib; which are just some of the options you will find in their menu.
Nomad XXI
This is one of the best known restaurants with terrace in Monterrey, where its delicious hamburgers, tacos and meals stand out above all, all in large portions, capable of satisfying anyone with a big appetite.
This restaurant stands out for having an informal atmosphere, a terrace with a dream view and first class service. The atmosphere of this restaurant is ideal to share with friends an afternoon of beers and divine contácteles while enjoying its incredible menu; which has delicious appetizers, varied entrees and exquisite desserts.
Conclusion
As you can see, these places are perfect to go out to eat with your partner, with your family or even alone and admire the scenery that Monterrey has prepared for us, while enjoying some delicious food. Of course, if your thing is another type of food, we invite you to know our top list of the best Italian restaurants in Monterrey.