In this magical city in the department of Antioquia, Medellin themed restaurants are meeting centers, where the colors, arts and culture of different parts of the world are expressed through design, decoration and good food presented in innovative dishes and flavors of charm. And today in Restaurant-Z we will tell you about them, but first, do not forget to visit our previous recommendations: Best Restaurants in Medellin, Best Romantic Restaurants in Medellin and Best Vegetarian Restaurants Medellin.
Themed Restaurants Medellín
The themed restaurants in Medellin are perfect to visit and get out of the routine and out of the ordinary, their daring locations, impress from the moment diners walk through the door and are designed to catch expressions of amazement.
Classic Dinner
If you are looking for themed restaurants for children in Medellin, this one meets all the requirements, since its decoration is set in cars and motorcycles of yesteryear. The tables are traditional vehicles, which transport you to a trip in your imagination, while you eat a delicious American style hamburger.
Among the themed restaurants in Medellin, this is one of the favorites of the little ones of the house, because their meals are charming and fun, to share a weekend dinner with the family.
Address: Cra. 43 #29S-85, Envigado, Antioquia, Colombia.
Phone: +57 4 4440851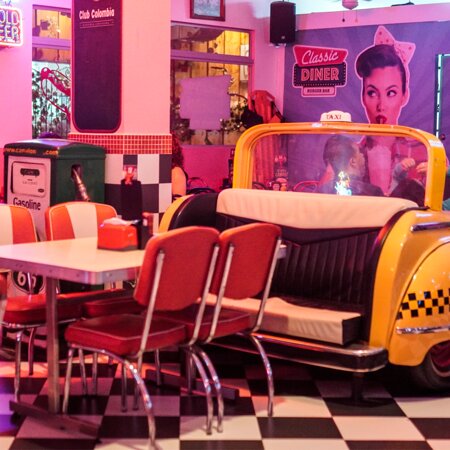 Myctic Restaurant
Of the Medellin themed restaurants, this space, as its name suggests, is loaded with mysticism. It is a luxury restaurant, which reflects in its entirety the culture and traditions of India. Its violet tones and the representation of the representative images of Hinduism, together with an avant-garde cuisine, make this place one of the most visited theme restaurants in Medellin.
If you want to delve into Asian food, passing through Thai, Filipino and Vietnamese flavors, you should come to this place and live the experience that will make each of your senses vibrate.
Address: Calle 36d Sur # 23-51, Envigado, Colombia.
Phone: +57 4 3222893
Milagros Restaurant
If you want to soak up the Mexican culture and celebrate the days of the dead, you will love this option in themed restaurants in Medellin. Its decoration is multicolored, with lanterns hanging from the ceiling and elements alluding to Mexico. Its food fully represents the traditions of this country, with burritos, tacos and quesadillas.
If you want to go with your family and children to celebrate a special occasion, accompanied by good music and really affordable prices, you should visit their facilities.
Address: Circular 74B #38-73. Avenida Jardín, Medellín, Colombia.
Phone: +57 4 5207780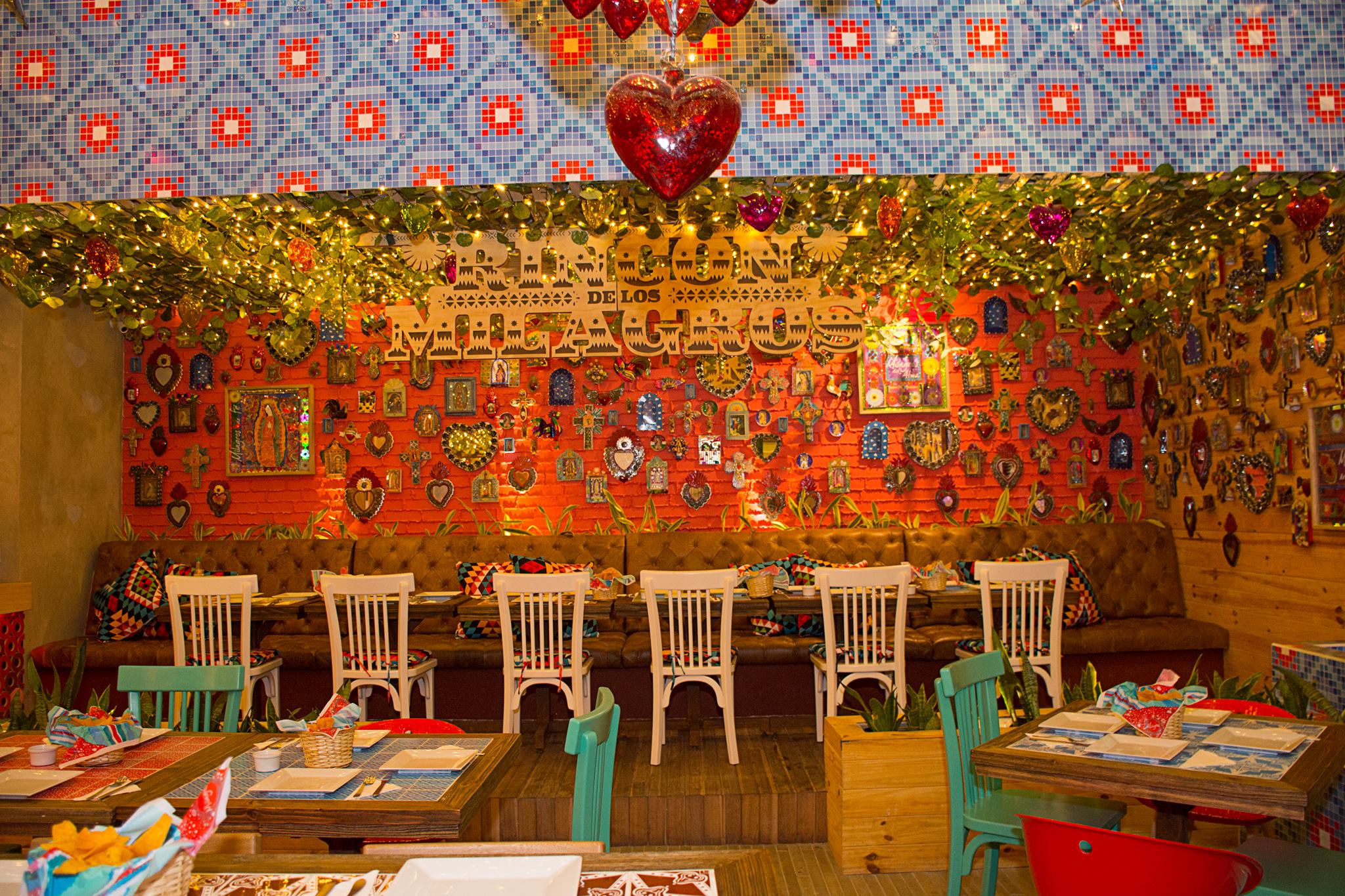 La Chagra
If now what you want is to lose yourself for a moment in the jungle, the thematic restaurants in Medellin present among their initiatives, an enveloping space, with elements of the Amazon, to live a fresh and natural adventure in the middle of the city.
The flavors presented in their menu reflect the ancestral indigenous values through organic ingredients, extracted from our mother earth and the sea. They serve cebiches, fish, cocktails made from exotic fruits and salads with strong notes.
Address: Carrera 33 7A-24 | Avenida Jardín, Medellín 050004, Colombia.
Phone: +57 316 8556666
Planet Comics
We close the list of themed restaurants for children in Medellin with this place, also suitable for adults and all lovers in general of superheroes, fantasy and science fiction. This place is very similar to the restaurant la juguetearía, one of the best restaurants for kids in Bogota.
Thematic restaurants show a laughable side and Planet Comic transports you to your childhood, with elements of stories such as Harry Potter, DC and Marvel heroes, as well as more current series, as is the case of Game of Thrones. The strong point of their menu are the hamburgers and the fun you will still find in the rest of the menu.
Address: #7S-170, Local 5180, Cra. 43a, Medellín, Antioquia, Colombia.
Phone: +57 301 2690385
Conclusion
Eating out with kids in Medellin is an adventure you can't miss, so don't forget to visit any of these places: You'll have a great time.