In other posts we have told you about the different restaurants in Guadalajara and the places to eat in its areas, such as Providencia or Chapultepec. Well today, we will continue to delve into the gastronomy of Guadalajara and get to know the list of the best Mexican restaurants in Guadalajara, where tacos and tequila are a must.
Mexican restaurants in Guadalajara
Mexican cuisine is known as one of the best worldwide; so much so, that it is considered Intangible Cultural Heritage of Humanity since 2010. Through its gastronomy, we find a mixture of incredible and exotic flavors and aromas; a seasoning that has been preserved since the first inhabitants of this region.
The inhabitants of Guadalajara have tried to maintain these flavors and recipes for generations; in addition, they have managed to position themselves as one of the reasons why we most recognize this country, being a source of Mexican pride.
This is how we ratify that the best way to enjoy Mexican cuisine is by visiting the 5 best Mexican restaurants in Guadalajara; the city of tequila and mariachis.
The Sayings of Mexican Food
The first of these Mexican restaurants where to go to eat is Los Dichos de la Comida Mexicana.
It is a place where the first thing you will notice are the piñatas that are in the place, as decoration. After that, the staff welcomes you with an incredible red sauce that will be the opening of the mouth for the delicious food that you will enjoy later; among them, the exquisite Tlalpeño broth.
Address: Av Ramón Corona 222, Zona Centro, 44100 Guadalajara, Jalisco, Mexico.
Telephone: +52 33 3613 0584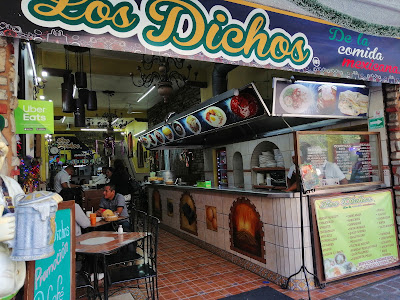 The Cathedral of Antojito Pedro Moreno
If you want to taste the delicious Mexican food in just two bites, we present you La Catedral del Antojito Pedro Moreno; also, considered the best restaurant of Mexican antojitos in Guadalajara.
Antojitos are a kind of snacks or fast food that are part of the Mexican culture. La Catedral is a family restaurant where you can enjoy the best antojitos that exist. Some of them are tortas ahogadas and tacos dorados.
The place offers an incredible view from the balcony for diners.
Address: C. Pedro Moreno 134, Zona Centro, 44100 Guadalajara, Jal., Mexico.
Telephone: +52 33 3113 1516
El Sacromonte
With a traditional decoration ideal for family outings, this is one of the Mexican restaurants located in Guadalajara that you cannot miss.
Known for its impeccable plating, the restaurant from the beginning makes you love its dishes just by looking at them; because they are prepared with a delicacy and incredible colors for the eye. Allowing them to be in harmony with the flavor of each ingredient.
Address: C. Pedro Moreno 1398, Col Americana, Americana, 44160 Guadalajara, Jal., Mexico.
Phone: +52 33 3825 5447
La Morenita del Santuario
Recognized as one of the best Mexican restaurants in downtown Guadalajara, we recommend La Morenita del Santuario as a mandatory stop in the city.
It has an incomparable customer service; you will be able to enjoy in a classic style dining room with family atmosphere. Its menu is recommended among the best culinary delicacies of Mexico.
Address: C. Pedro Loza 527B, Zona Centro, 44100 Guadalajara, Jal., Mexico.
Telephone: +52 33 36 3658 0466
El Pilon de Los Arrieros
Among the many Mexican restaurants that you will find in Guadalajara, one that without a doubt you should not miss is El Pilón de Los Arrieros.
This place that contemplates the eclectic decoration of old Mexico, colorful and with tables located in a beautiful garden. It offers diners the delicious flavors of Mexican cuisine; dishes such as the divine cazuelitas, making you return on a journey through time with one of the characteristic drinks of the house, the special beer.
Address: C/ Galeana 388, Zona Centro, 44100 Guadalajara, Jal., Mexico.
Telephone: +52 33 3613 2799
Conclusion
Let's remember that Guadalajara is a city well known for its Mexican charm, its tequila and its gastronomy, so although this list of Mexican food places is very short, we are sure that walking around and getting to know the city you will know many other restaurants.