The restaurants for kids Bogotá, the capital of Colombia, serve as the perfect locations, to go out with the little ones of the house and if you do not know which are the best, do not worry because today in Restaurant-Z we will talk about it, but before, do not forget to visit our posts about themed restaurants in Bogotá and best restaurants in Bogotá.
Restaurants for kids Bogota
You can devise endless plans for the spoiled of the family, taking advantage of the spaces of the restaurants for children Bogota, to celebrate special events and also taste amazing dishes that everyone will love.
That is why if you want to get restaurants to go with children in Bogota, you should pay attention to the following list.
The toy store
Magic, science fiction and superheroes cover most of the restaurants for children in Bogota. This place is located at Carrera 78B, 38 Sur, 74 Centro Comercial Caravana, Bogotá 11085 and is one of the most sought after by parents when they want to go to Bogotá themed restaurants for kids.
Its cuisine specializes in asados, national dishes and Latin American traditions. Its decoration is loaded with figures and characters that children love. In this place parents celebrate the birthdays of the little ones while enjoying a good drink or dessert.
Chronos Fantasy Restaurant
Located in Carrera 36 #63-10, Bogota 111221; this place stands out in the city for being one of the most recommended restaurants for children in Bogota. Within its facilities you will find a pleasant atmosphere to spend with your family and especially with your little ones, who will also enjoy the decor loaded with video game consoles and Japanese anime culture.
Among the themed restaurants for children in Bogota, this place complies with the quality of the food, inspired by the traditions of Colombia and mixing the colors of the games, in the artisan breads of the hamburgers they serve.
Circo Colombia Restaurant Bar
Many children love circus arts and want to visit a place as colorful as this one, located on Calle 67 12-40 in the Colombian capital. With a live circus show, it is one of the privileged children's restaurants in Bogota.
Its diners highlight the delicious food and how the daily circus show steals the attention of the most innocent of the household. It is one of the most popular restaurants for children in Bogota.
Their attention is focused from the first moment you arrive in your car until you leave, with emphasis on creativity and enthusiasm to serve you with the best hospitality.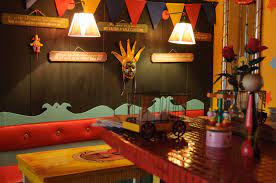 Restaurant La Juguetería Los Cedritos
6.2 km from Parque 93 is an amazing gastronomic and decorative wonder. It counts as one of the thematic restaurants for children outside Bogota or in its periphery, ideal to celebrate birthdays, school promotion parties, among others.
Its atmosphere is full of toys and playful material for the whole family to have fun, among the restaurants for children in Bogota, this one deserves special attention, for the quality and treatment of its staff, as well as the variety of its dishes at a good price.
La Jugueteria Macarena
You can find it in Calle 27 No 4A-03 Macarena, Bogota. So its location is excellent if you want to visit it for a while after work and share a moment with your children. Even the older ones will remember their childhood with the decoration of this place.
So, although it is last in our recommendations of restaurants for children in Bogota, this does not mean that it has less quality than the rest; in fact their dishes are delicious according to the diners themselves.
With toys hanging from the ceiling, the eyes of the little ones will never stop looking around the place and being amazed; they will also appreciate the good food and the parents will enjoy a craft beer.
Conclusion
As you can see, no matter if you are a tourist traveling with children in Bogota or if you have children and you are looking for a place to eat with them and have a good time, the city is prepared for everything so you will definitely find something to suit you and if you want to know more recommendations of places to eat, click here.