Belgrano neighborhood is known for its restaurants and diligent inhabitants. It is one of the most explored neighborhoods in Buenos Aires; due to its touristic places, successful stores and its relevant gastronomy.
Best Restaurants in Belgrano
This locality is qualified by the exponential growth in the number of restaurants; which offer the diverse gastronomy that characterizes Belgrano. The foreigners who visit this unique neighborhood of Buenos Aires are fascinated; so much so, that it has become one of the most popular.
We invite you to experience up close one of the best culinary experiences of your life, do not hesitate to know the best restaurants in Belgrano.
Moby Dick Pub & Grill
Leading the top of the best restaurants in Belgrano, we have Moby Dick Pub & Grill; a mix created from the admired international cuisine and the classic Argentinean seasoning.
The atmosphere is usually favorable for diners; the patio of this place is very comfortable and provides a natural fresh air. The burrata salad and the Uruguayan chivitos, stand out as the favorites of the public.
Address: Avenida Rafael obligado 6350, Buenos Aires, Argentina.
Phone: (+54) 9 11 4784-8681
Happening
The traditional Argentinean grill continues to be the protagonist in different Argentinean restaurants; Happening restaurant in Belgrano, is one of them. With more than 54 years of experience, this place offers a unique culinary art that adapts to recent trends.
In Happening, you will find besides its particular asado, one of the most outstanding presentations of international cuisine. Spinach with cream and chorizo steak with chimichurri, are the favorites of the diners.
Address: 7030 Rafal Obligado Avenue, Buenos Aires, Argentina.
Telephone: (+54) 9 11 4787-0666.
January Costanera
It is a prim and proper place in the Belgrano area. It has a pleasant and special appearance; additionally, it is a recommended place to visit with children.
It is characterized for having an excellent price-quality ratio; these vary from 250 to 2100 ARS. Among the restaurants in Belgrano, in Enero Costanera you can find American, Asian and typical Argentinean food.
Address: Avenida Rafael Obligado 7180, Buenos Aires, Argentina.
Telephone: (+54) 9 11 2516-2111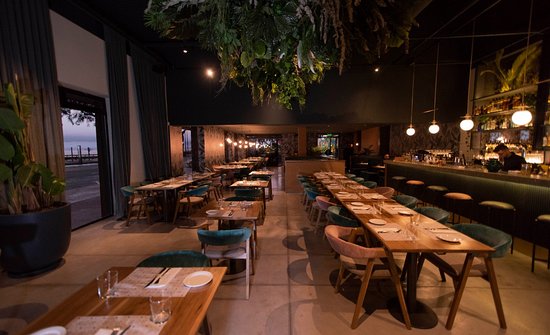 Pizza Paradiso
It was inaugurated during the pandemic of 2020, by the renowned Italian chef, Donato de Santis; its added value lies in the freshness of the wheat flour used in the dough, which is manufactured by the restaurant.
The delicious pizzas with the traditional flavors of southern Italy, characterize this peculiar place. Besides, it is one of the well-known restaurants in Belgrano where they offer a quiet atmosphere with a fascinating terrace.
The square pizzas are one of the main attractions of this restaurant. If you visit Pizza Paradiso you must try them.
Address: Sucre 1302, corner of Miñones, Belgrano neighborhood, Buenos Aires, Argentina.
Phone: (+54) 911 6453-9165
Taco Box
If you are looking for Mexican food, Taco Box offers you the best in Belgrano.
Taco Box is a restaurant with several branches, one of them is located in this neighborhood of the capital. The warm service, exquisite dishes along with the friendly environment, characterize this restaurant. Tacos, fajitas and burritos are a delight in this place.
In addition, veggies have the opportunity to choose from different vegan and vegetarian options offered by the local.
Address: Echeverría 2990, Ciudad Autónoma de Buenos Aires, Argentina.
Phone: +59 9 11 3772-3836
Nobiru Isakaya
The famous Chinatown of Buenos Aires is located in the area of Belgrano. This neighborhood is part of the gastronomic pole of that area; it also contains one of the best Japanese food restaurants in Belgrano, called Nobiru Isakaya.
The most outstanding and favorite dishes of the customers of this Japanese tapas bar are gyoza, harokami and salmon tiradito.
Address: Mendoza 1559, Buenos Aires, Argentina.
Phone: (+54) 9 11 4788-4999
Conclusion
This is a very small list, but it includes the best food places in Belgrano, Argentina. And to continue reading about places where you can eat, we invite you to enter here or here.