Not every restaurant with a terrace in Querétaro offers a nice view; some do not even serve a memorable meal, worthy of recommending to others.
Restaurants with terrace in Queretaro
For these reasons, we have created a top list of the best restaurants in Querétaro, those that have a breathtaking view from their terraces; this way, you will enjoy Mexican food while admiring the city of Querétaro at its best.
La Grupa Terrace
This restaurant has one of the most exclusive terraces in Queretaro; where you can eat while admiring a wonderful view, without a doubt, it is a unique experience. Terraza la Grupa opens its doors for you to enjoy its food whenever you want, but it is advisable to book a week in advance.
The menu is a wide repertoire of recipes, ranging from salads and pizzas to delicious desserts; they also serve delicious non-alcoholic beverages. The ambiance of the place is very beautiful; perfect for a romantic date, quiet for a business meeting, and cozy for a family reunion.
Address: Av. Prol. Luis Pasteur 25-Norte, Centro Histórico, Centro, 76000 Santiago de Querétaro, Qro.
Phone: 442 212 4249
Carranza 50
Carranza 50 is a large house with a theme dating back to the 18th century; therefore, it is quite elegant and interesting. From the terrace, you can appreciate the magnificent atmosphere; while you wait for your order, you can have a glass of wine and admire the scenery.
The menu of this place includes Mexican cuisine of the highest quality; these dishes show diners that Mexico does not only know how to serve tacos. No matter how demanding your palate is, here the rain of delicious flavors is guaranteed.
Most visitors identify the place as the best restaurant in the area; and no wonder. That is why we recommend Carranza 50 as the best option to taste a good cut of meat from the terrace, which offers a panoramic view of the landscape.
Address: Calle Venustiano Carranza 50, La Santa Cruz, Centro, 76000 Santiago de Querétaro, Qro.
Phone: 442 212 3031
Sky Garden
Are you interested in admiring the stars at night while eating your favorite dish? If so, the Sky Garden is your best option; here you can eat the most popular dishes of the region, while contemplating the sky and the stars of Queretaro. If you don't have a lot of money, don't worry, prices are affordable and some dishes are very economical.
It is one of the few restaurants with terrace in Queretaro that prepares excellent cocktails, burgers, salads and nachos; the menu contains food of all kinds, where you will surely find your favorite dish. And as if all this were not enough, the restaurant has a DJ on the terrace! For this reason, it has remained one of the best restaurants with terrace in Queretaro for years.
Address: Calz. Colón 1, Ejido Modelo, Centro, 76000 Santiago de Querétaro, Qro.
Phone: 442 224 4044

De Gourmand
De Gourmand is well known in the community, thanks to the fact that it is a restaurant that combines Mexican and Italian cuisine in its recipes; the chefs of the place, elaborate each dish with passion and dedication, thus achieving an exceptional quality.
On the other hand, the drinks menu is very extensive; you should always consider accompanying your meal with a good wine or any other beverage you prefer.
The views are extraordinary from the terrace; in addition, its tables are perfectly located so that all diners have a panoramic view. The atmosphere is cozy and quiet, with warm lights, creating a very nice atmosphere.
Address: Dr. Leopoldo Río de la Loza Street #11, Downtown, 76000 Santiago de Querétaro, Qro.
Telephone: 442 367 7925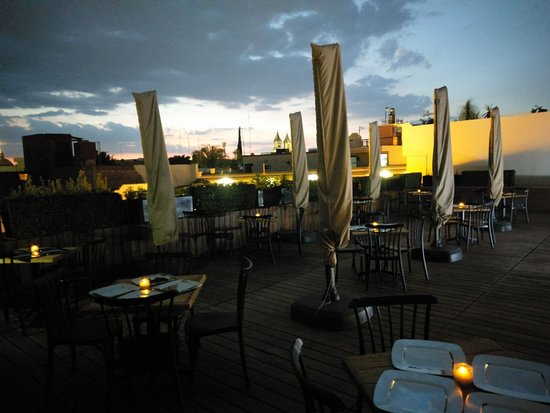 La Casa Verde
Unlike other restaurants with terrace in Queretaro, the objective of this establishment is to produce culinary recipes that will surprise you. Here you can enjoy Mexican cuisine while admiring Queretaro's downtown from an appropriate height.
La Casa Verde is a complete restaurant, that is to say; its service is excellent, the atmosphere is cozy, the staff is very polite, the prices are affordable, and most importantly, the food is exquisite. It could be one of your best options to eat in Querétaro and watch the city while you do it.
Address: Av. Tulum Sur 260, 7, 77502 Cancun, Q.R.
Phone: 998 884 0944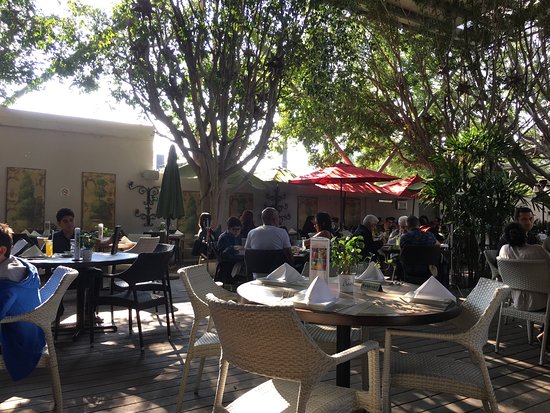 Conclusion
Undoubtedly, these places are perfect for a romantic dinner with your partner and of course, there are many more places that have terraces, elegance and style for breakfast, lunch or dinner and you can know them by clicking here or here.