The restaurants in downtown Monterrey are a great attraction of this city, the great variety of styles among each one of them make every visitor fall in love with the city; besides, it gives more reasons to those who live in Monterrey to love their city.
Best restaurants in downtown Monterrey
Do you want to know which are the best restaurants in downtown Monterrey? Here we present them to you; from romantic places, to the best places to eat Sushi. But say no more and now we will give you the list of the best restaurants you can find in downtown Monterrey.
Los Arcos
If we talk about seafood restaurants in downtown Monterrey; we have to talk about Los Arcos. This restaurant is an incredible fusion between Mexican food and seafood.
One of the most attractive features of this restaurant, one of the ones that most attract customers, besides its delicious food; is its incredible relaxed atmosphere that has an incredible play area where children can draw or watch movies.
Its menu is mainly focused on fresh seafood; being its most striking dishes, the shrimp with apple, oysters shell, jicama tacos, grilled octopus and its delicious seafood soup.
Krei
Krei is definitely a must on this list; known by many as one of the best sushi restaurants in downtown Monterrey; its casual and sophisticated ambiance is ideal for a romantic dinner.
Although its restaurant is based on contemporary food, you can find different options, including gluten-free food; a great variety of seafood, Japanese food, contemporary food, churrascaria or delicious Mexican food.
Among the dishes that most attract the attention of this incredible restaurant are different roasts, pickled octopus, chicharrón in green sauce, different cuts of meat; also, do not forget to take a walk through its dessert menu, where the delicious flan with caramel and orange stands out.
El Lingote
It is one of the restaurants in downtown Monterrey with the most innovative concept; El Lingote is in charge of perfectly fusing the gastronomy of different countries of the world and the gastronomy of northeastern Mexico, achieving perfect techniques and flavors.
This restaurant manages a very complete menu, where the only difficult thing will be to crave a single dish; you can prove it by ordering the shrimp aguachile, its many rustic pizzas or the octopus chicharrón tostadas.
San Carlos Restaurant
Being one of the oldest restaurants in downtown Monterrey, Restaurante San Carlos has been serving the city since 1980. The ambiance of this restaurant evokes all the characteristics that represent the city.
Its menu is extensive; however, the fine cuts of meat prepared on the grill, pork, arrachera gratin, but that's not all; it is also known for being one of the best goat restaurants in downtown Monterrey.
In this restaurant, you can celebrate your private events and enjoy with your friends its delicious food and exquisite desserts; however, keep in mind that the guest list cannot exceed 100 people.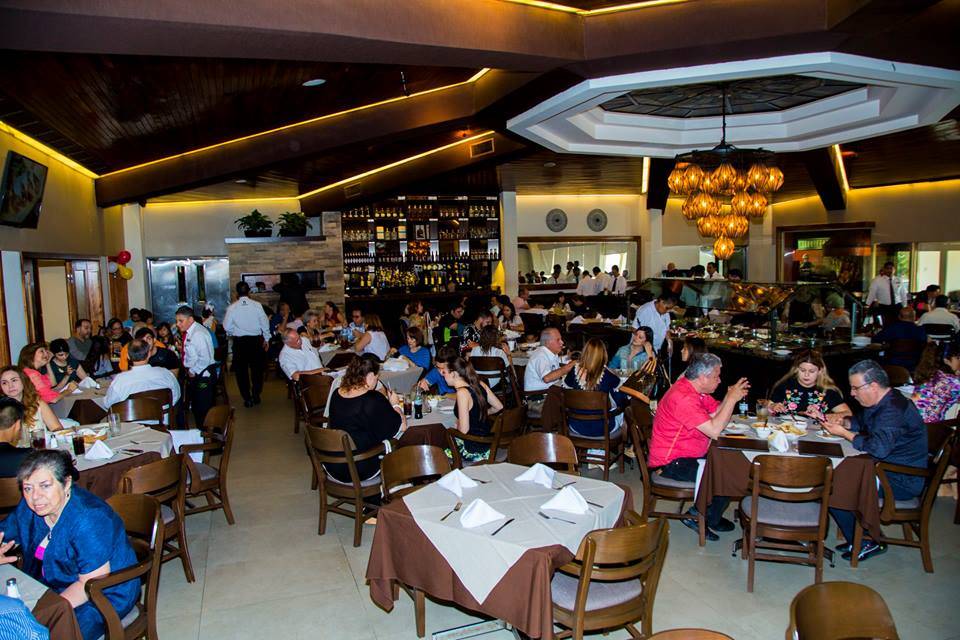 Zacatecas Bar Restaurant
If you are looking for one of the restaurants in downtown Monterrey that represents all the culture of the city, Restaurante Bar Zacatecas has an exquisite Mexican food that will surely make you want to come back.
The menu is full of incredible cuts of meat, marinated pork ribs, rib tacos and much more. In addition, this restaurant that also functions as a bar, you can drink delicious and cold beers both national and international; it is an ideal place to share with friends and family.
Conclusion
As promised, our list of places to eat in downtown Monterrey goes from humble places to the most elegant, luxurious and romantic places to eat and have a great time. So now that you know some of them, which one would you add to this list? We'll read you in the comments.
Do you want to know more places to eat? Then you have to read about Korean restaurants and Italian restaurants in Monterrey.