Vegetarian food is that which does not include in its dishes any type of food that comes from animals; instead, the dishes are composed only of fruits, vegetables and cereals. All this will depend on the degree of vegetarianism of the cuisine; its dishes may or may not include the use of animal products, such as eggs, milk and honey.
Best Vegetarian Restaurants in Guadalajara
If you are curious and want to know the flavors that are presented in the dishes of this type of gastronomy; we invite you to know the 5 best vegetarian restaurants in Guadalajara.
El Jardin
El Jardin is one of the first vegetarian restaurants you should visit. In this place you can enjoy vegetarian dishes buffet style, among which stand out a delicious vegetarian pizza and an appetizing quinoa burger; which can be accompanied with a refreshing natural drink, such as its characteristic yogi shake.
On the other hand, this place has a beautiful blue stained glass window on the ceiling that combines with its decoration where plants are the protagonists.
Address: Av. de la Paz 1558, Col Americana, Americana, 44160 Guadalajara, Mexico.
Phone number: +52 33 3825 6885
La Flaca
If you want to enjoy the exquisite flavors of Mexican cuisine with a little vegetarian touch, visit La Flaca, one of the best vegetarian restaurants.
With a service of the highest caliber and a cozy decoration, in this place you will taste dishes of beautiful and colorful presentations; among the most popular are the tortilla soup and delicious enmoladas. It also has tapatía craft beer.
Address: Av. Miguel Hidalgo y Costilla 1500, Ladrón de Guevara, Lafayette, 44600 Guadalajara, Mexico.
Telephone number: +52 33 3616 7704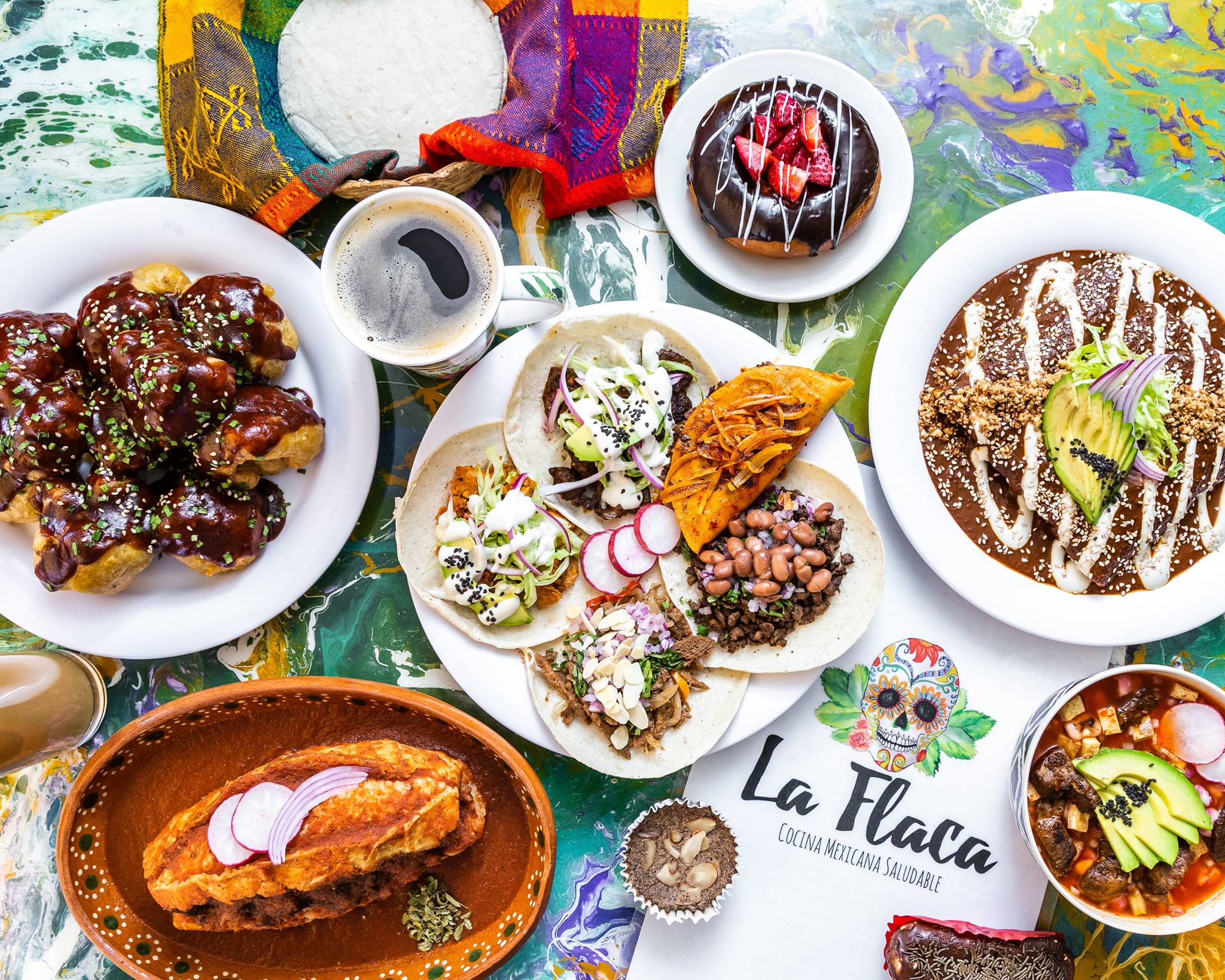 Choclo y Maíz
One of the restaurants you cannot miss if you are looking for the best vegetarian restaurants in Guadalajara is Choclo y Maíz.
This place, with minimalist decoration, offers exquisite desserts with a vegan twist at dream prices; you will also find ice cream, cookies, donuts, even tiramisu and its emblematic "vegansito".
Address: Calle Gabriel Ramos Millán #37, Ladrón de Guevara, Ladron De Guevara, 44600 Guadalajara, Mexico.
Phone: +52 33 1597 1683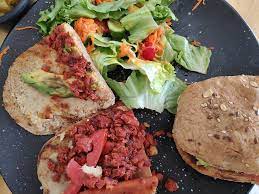 The Urban Vegan
To fully enjoy the exquisite flavors that vegetarian food offers in traditional tacos, we recommend you to go to El Vegano Urbano, the best vegetarian and vegan restaurant in Guadalajara.
The taco doughs of this restaurant are made from soy or mushrooms. The fillings are made of soy protein marinated with traditional condiments such as mole poblano and different chiles. They also have Nuggets and bacon with an oat base.
Address: C. Juan N. Cumplido 14, Col Americana, Zona Centro, 44100 Guadalajara, Mexico.
Telephone: +52 33 1214 7730
Dalias
Another vegetarian restaurant not to be missed is Dalias.
With a perfect atmosphere, it is ideal to go out with friends to enjoy vegetarian food; it has incredible prices and at the same time a beautiful view. In this restaurant you will be able to taste the most delicious Mexican gorditas; and you will know the incredible vegetarian versions of the classic Mexican dishes of pozole and burritos.
Address: Av. Enrique Díaz de León Sur 220, Col Americana, Americana, 44160 Guadalajara, Mexico.
Phone: +52 33 3614 3680
Conclusion
The list of places to eat vegetarian food in Guadalajara is very long, but we can assure you that the ones we have mentioned here will fulfill all your expectations. And now that you have come this far, we invite you to know the Mexican food restaurants and restaurants with mariachis in Guadalajara.