Do you want to know which are the best places to eat in Cordoba? An incredible place in Spain that not only has many attractions, it also has an excellent cuisine and that is at your fingertips in its best restaurants and right now we will name some of them.
Best restaurants Cordoba
If you're looking for a delicious dining experience, look no further than Cordoba, Spain. This Andalusian city is home to some of the best restaurants in the country. From traditional Spanish to international fare, there is something for everyone in Cordoba. Here are our picks for some of the best restaurants in this city.
El Nº10 Tavern
One of the most prestigious restaurants in Cordoba for being very frequented by tourists and locals is this place, which offers traditional dishes with quality products.
Additionally, the place has different areas where diners can taste its dishes: a terrace in the upper area of the premises, an indoor dining room and a bar in the street with barrels and high chairs.
The most recommended dishes are the oxtail, salmorejo, sirloin steak, eggplant, cod, flamenquines, among others; and the best thing is that they are all at very affordable prices. The access hours are from 12:30 pm to 4:00 pm and from 7:30 to 11:00 pm.
Casa Rubio
This restaurant is included in the Michelin guide and is a highly recommended option if you want to taste food with fresh and traditional local products. The establishment also has first class facilities and not to mention its wonderful terrace.
The restaurant's menu includes prawns, coquinas, ensaladilla, flamenquines, croquettes, salmorejo, eggplant with honey, oxtail omelette, Iberian sirloin and many other delicacies at affordable prices. You can visit the place any day of the week from 1:00 pm to 4:00 pm and from 8:00 pm to 11:00 pm.
Taberna Bar Santos
This restaurant in Cordoba is very famous because they serve the best tortilla in town. In addition, they have a wide variety of traditional tapas, so it is a must stop for both locals and visitors.
The prices of their tortillas and tapas are unbeatable and for this reason it is always full, it is best to go outside peak hours, although their service is very fast and professional. The opening hours are daily from 1:00 pm to 12:00 am.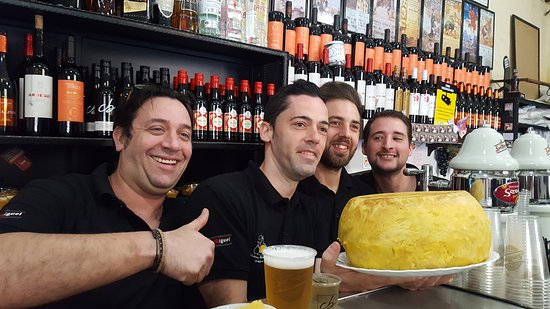 Los Patios de La Marquesa
This place has a different concept from other places in the city, it consists of several patios where you will find various food stalls, between modern and traditional, with various cuisines from around the world.
It should be noted that it is a very busy place, but thanks to its spaciousness, there is always room to sit down. The most recommended dishes are croquettes, rice, fish, salmorejo, among others. They work every day from 12:00 pm to 12:30 am.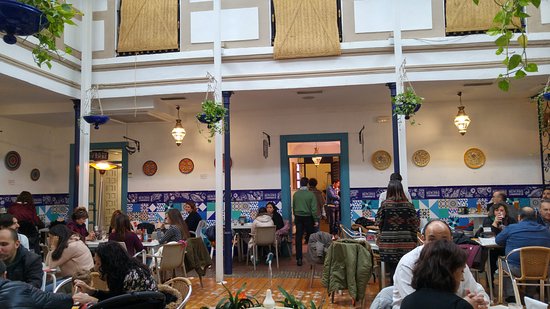 Taberna Los Berengueles
This tavern is considered a little more expensive than the previous ones, but its services, products, location and decoration are worth paying this small difference. There you can taste delicious dishes such as: salmorejo, fried eggplant, oxtail, ensaladilla and many more.
The opening hours are from Tuesday to Saturday from 1:00 pm to 4:00 pm and from 8:30 pm to 12:00 am; on Sundays and Mondays it is only open at noon.
Góngora Tavern
This place is known for being very economical, as it offers quality products at a good price. If you want to enjoy the traditional gastronomy of the city, be sure to visit this place. Its portions are hearty, and its menu excellent, the recommended dishes range from croquettes, oxtail, eggplant and salmorejo.
It is an ideal place that fits all budgets, also provide excellent service every day from 8:00 am to 4:00 pm and 8:00 pm to 11:30 pm.
Conclusion
From places to eat traditional food, to drink and drink with friends, to enjoy gourmet gastronomy, what we can find here and much more. Do you want to know them? Then don't stop reading, because we will have for you many more recommendations of where to eat.
Don't be stung and read our previous posts: